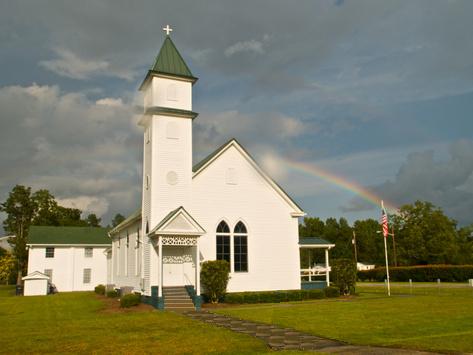 History of Elam Egypt Baptist Church
Elim Baptist Church was constituted in the summer of 1870, in front of and to the left of the residence of C.F. Foy, in a grove of young oaks, about two miles north of Egypt. A man of great influence and social; leader in the community brought about a split in the church at Oliver (Little Ogeechee Baptist) over the use of an organ in their song services. Dr. A. B. Lanier organized Elim Baptist Church because of this issue. He and others who favored the use of an instrument left the Little Ogeechee Baptist Church and founded Elim Egypt Baptist Church.
[more]
Worship Place & Times
Place
184 5th Street, Egypt,
Guyton, GA, 31312

Times

Sunday School: 9:45 AM

Sunday Morning Worship: 10:45 AM

Sunday Evening Worship: 6:00 PM

Wednesday Bible Study & Prayer: 7:00 PM
Church News
Sunday's Message
May 31, 2020
"And even as they did not like to retain God in their knowledge, God gave them over to a debased mind, to do those things which are not fitting; being filled with all unrighteousness, sexual immorality, wickedness, covetousness, maliciousness; full of envy, murder, strife, deceit, evil-mindedness; they are whisperers, backbiters, haters of God, violent, proud, boasters, inventors of evil things, disobedient to parents, undiscerning, untrustworthy, unloving, unforgiving, unmerciful; who, knowing the righteous judgment of God, that those who practice such things are deserving of death, not only do the same but also approve of those who practice them. "
Sunday, June 7, 2020
Come Join Us: 11:00 to 12:00 AM
We have re-opened the church with the recommended guidelines in effect for our local community. Come and praise the Lord with your presence and in song. We will still be Live Streaming for those who don't want to join us at this time and for all our online followers.
EEBC Backpacks And Shoebox Needs
As you are out Shopping
Please keep our 2020 Goal in mind: 400+ backpacks and 100 shoeboxes. Full size bars of Soap (Any Brand) is a big item we need, as well as Washcloths (Pkg 18, Walmart) the need is approximately 900. Have questions contact: Tina Caine, Nikki Danker or Nancy Holt for help.
EEBC Congradulates Our Graduates
High School
Macy Harden
Emily Mills
Avery Tucker
College
Carli Royal Porter
Ryan Pye
VBS At EEBC
To Be Anounced at a later date
Concrete and Cranes
EEBC Streaming Video Sermons