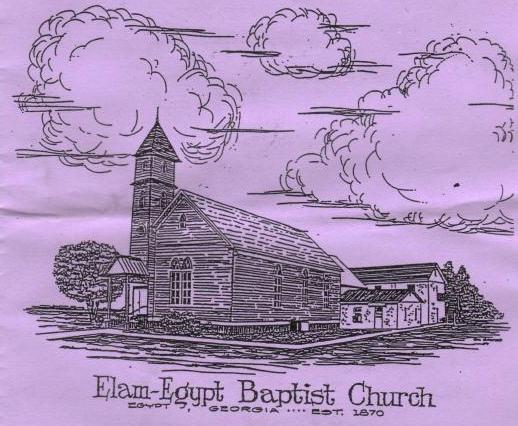 History of Elam Egypt Baptist Church (cont.)
The first deacons to serve the church were James H Ash, James D. Lee, Dr. A. B. Lanier, W. C. Hamilton, and H P. Brewer. The Rev. W. L. Murrow assisted in the drawing up of the first constitution and he also was called to serve as the first pastor. The first church building was erected in 1871. After the rift over the organ was healed, Elim Baptist and Little Ogeechee joined together in a union Sunday School from 1874-1876. In 1902 Elim changed its name to Elam Egypt and moved to the Egypt community.The Elam Egypt Church would then alternate with local Methodist church in Egypt in a joint Sunday School. Worship was held every other week at these two churches in Egypt. Rev. R. G. Cartin, the grandfather of the late Mrs. Willie Greer Todd, who was a member of the Pine Street Baptist church in Guyton, was called to serve the church from 1872-1878. He was called again in 1923 and served 1872-1879 faithfully until May 20, 1928. By 1902 the Egypt community was growing and the Big Mill was located in Egypt. There was also a 17-room hotel, two grocery stores, a post office, and a train deport. The present sanctuary was built in 1902 and the same year a pump organ was given to the church. A milestone in the history of the church was to host the 75th anniversary of the WMU on October 7, 1964. The church was also selected to host the 100th anniversary in 1989 and over 200 people were present. In 1988 the church built a 6400 square foot educational building attached to the old building. Also in 1988 the C. G. Roundtree family gave the old Roundtree house to the church and the church renovated this house and now uses it as the church pastorium. The church also has two cemeteries; one outside of Egypt and the other is two miles away in what was once known as the Elim community and bears the name, Elim Cemetery. The church is currently without a pastor. The following deacons presently serve the church: Mikey Danker, Ricky Smith, Will Caine, Davy Flowers, Brett Harden & Adam Jones. Also serving as deacon emeritus is Rickie Bragg.
Community
The rural community of Egypt is located approximately ten miles north of Guyton, GA off GA Rt 17. It is residential and no longer has any city services. The city of Guyton has many of the needed services including gas stations, grocery stores, restaurants, ice cream parlor, auto repair and hardware.
The city of Springfield is the county seat and is slightly larger and is about five miles southeast of Egypt with the same services offered by Guyton.
The city of Rincon is the largest city in the county and is seven miles due south of Springfield and has larger grocery stores and a Walmart Supercenter.
Egypt is located about 40 miles northwest of the city of Savannah and about 20 miles southeast of the city of Statesboro.
Pastors
Who Served
1870-1872 W. L. Marrow
1872-1872 J.W. Cross
1872-1900 R.G. Cartin
1909-1912 S.A. McDaniel
1912-1923 L.N. Chappell
1923-1928 R.G. Cartin
1928-1930 Lon Day
1931-1936 Loyd G. Garland
1937-1937 (Unknown) Garrard
1938-1942 William Kitchens
1943-1944 J.C. Tillman
1945-1946 Eugene Dailey
1947-1949 W. F. Chamblis
1950-1951 Herman Bowers
1951-1953 Ralph Beasley
1953-1953 Wade Hilyabide
1953-1956 C. M. Mobley
1957-1958 Walter Brown
1959-1961 Bob Helton
1961-1962 No Pastor
1962-1963 Johnny Arban
1964-1966 C. E. Smith
1966-1968 Ben Edwards
1968-1969 Kenneth Bailey
1969-1970 J. Robert Moon
1971-1974 Paul Morgan
1974-1976 Curtis Dowis
1976-1977 Arthur Saranthus
1977-1978 Richard Daniels
1979-1981 James Willis
1982-1991 H. Thomas Swilley
1992-1994 Doug Parker
1994-1999 John B. Creech, Sr.
1999-2005 Timothy C. Bailey
2006-2020 M. Paul Moore
2020-2021 No Pastor
2021-2022 Bryce Jeffcoat 2022-Present No Pastor
Elam Egypt Baptist Church Cemeteries
Old Elim Cemetery
Located northwest of Egypt, Georgia, on the Old Elim Cemetery Road, between GA Highway 17 and Old Louisville Road.
There are about 42 marked burials at Old Elim Cemetery, beginning in 1871. Only six of these burials are dated after 1944 - these six burials occurred during 1959-1980.
Elam Cemetery
The donation of a private cemetery (Foy Family Cemetery), Located about three miles southwest of Egypt, in 1906 (and an additional land gift there in 1977), church burials also occurred at the then renamed Elam Egypt Baptist Church Cemetery, on George Hurst Road, which is still in use.