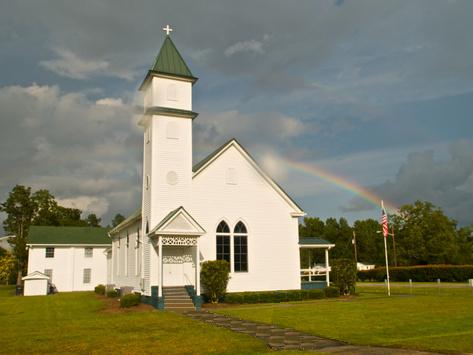 History of Elam Egypt Baptist Church
Elim Baptist Church was constituted in the summer of 1870, in front of and to the left of the residence of C.F. Foy, in a grove of young oaks, about two miles north of Egypt. A man of great influence and social; leader in the community brought about a split in the church at Oliver (Little Ogeechee Baptist) over the use of an organ in their song services. Dr. A. B. Lanier organized Elim Baptist Church because of this issue. He and others who favored the use of an instrument left the Little Ogeechee Baptist Church and founded Elim Egypt Baptist Church.
[more]
Worship Place & Times
Place
184 5th Street, Egypt,
Guyton, GA, 31312

Times

Sunday School: 9:45 AM

Sunday Morning Worship: 10:45 AM

Sunday Evening Worship: 6:00 PM

Wednesday Bible Study & Prayer: 7:00 PM
Church News
Sunday's Message
March 22, 2020
"Even them will I bring to my holy mountain, and make them joyful in my house of prayer: their burnt offerings and their sacrifices shall be accepted upon mine altar; for mine house shall be called an house of prayer for all people."
This will be the first Sunday with others to follow that we present Brother Paul's message pre-recorded so you and your family can worship safely in the privacy of your home. Please be still, open your Bibles, get rid of all distractions, then listen and worship our God who is till in control.
From The Desk of Dr. David Jerimiah
I'd like to take a few minutes of your time to talk about the impact of Coronavirus. We are all experiencing disruptions in our daily life, and many churches are finding it necessary to adapt their services to support online viewing. Because of the situation, I decided to address the people of Shadow Mountain, my home church, about trusting God through this time of uncertainty. I thought this message might be a blessing to you as well. It is not a typical Turning Point production. It's just me, as a pastor, sharing my heart and God's Word about how we can respond biblically to these interruptions.
YouTube: Dr. David Jerimiah, Coronavirus
The Bible is our source of hope and peace during this uncertain time. In the words of the apostle Paul, "God has not given us a spirit of fear, but of power and of love and of a sound mind" (2 Timothy 1:7).
God bless you, David Jeremiah
Sunday, March 22, 2020
11:00 to 12:00 AM
Due to the Coronavirus the deacons and Brother Paul have suspended our normal Sunday worship services, but if you feel inclined and would like to come to the sanctuary for family prayer, it will be open during the above times.
EEBC Backpacks And Shoebox Needs
As you are out Shopping
Please keep our 2020 Goal in mind: 400+ backpacks and 100 shoeboxes. Full size bars of Soap is a big item we need. Have questions contact: Tina Caine, Nikki Danker or Nancy Holt for help.
MBA Church Strengthening
Summit 2020
Saturday, April 4, 2020
9:00 AM to 2:30 PM
First Baptist Church Springfield
5 Speakers - 2 Plenary Sessions - 8 Breakout Sessions, Free to MBA Members. Register at Middle Baptist Assoc. (MBA)
VBS At EEBC
Sunday - Friday, June 14 - 19, 2020, 6:00 - 9:00 PM
Concrete and Cranes
EEBC Streaming Video Sermons
Guyton Local Weather
Click here for the weather forecast
During the events that have taken place in our nation and our local community, we have setup a way for church members to tithe from the safety of your homes. Please click the link above to give your tithe online. The website is a secure site setup by the church.
Quick Links
Our Mission
We are a family of believers committed to worshipping God, witnessing to the unsaved and working to encourage, edify and equip disciples to establish a personal relationship with Jesus Christ.
Our mission rests on the pillars of prayer, worship, outreach, instruction, stewardship, and fellowship.
Daily Bible Verse
Church Visitors